SAFE HANDLING AND MOBILITY
Safe Handling and Mobility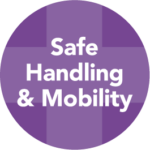 Almost 80% of time-loss claims reported to the WCB Nova Scotia by healthcare workers involve musculoskeletal injuries (MSIs). Over half of these are linked to the lifting, transferring, and repositioning of residents, patients, and clients.
The best way to protect the safety of both workers and residents is through a Safe Handling and Mobility Program – a comprehensive prevention initiative that extends to all levels of your organization.
AWARE-NS, in partnership with WCB Nova Scotia are working with individual organizations in developing and implementing an effective Safe Handling and Mobility (SHM) program, which includes a four-hour SHM/PACE training workshop, conducted by trained peer leaders.
The SHM program begins with building awareness and senior leadership commitment through active engagement.
If you are interested in participating in this program, please contact Alan Baretta for further information. [email protected] or call (902) 832-3868 EXT. 104
Safe Handling and Mobility Resources:
Safe Handling and Mobility Posters to Download:
Evaluation & Sustainability